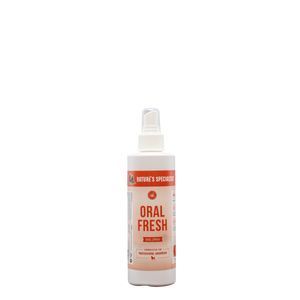 Oral Fresh® for Dogs & Cats
Available only in an 8oz size.

Helps fight bacteria and bad breath.

For daily maintenance with a refreshing mint scent. 
Keep those teeth clean and healthy. Fight bad breath and maintain healthy gums with this refreshing mint scented oral spray that is the perfect finisher to any groom. Use in conjunction with veterinary dental care for a clean and healthy mouth.
Please note: Use of oral spray should not be considered as a substitute for sound veterinary dental treatment.
Contains: Di Water, Emulsifier, Natural Flavoring and Alcohol.
Please note: Product labels are in the process of updating and may differ than those pictured. Due to an increase in demand, caps may differ from those pictured.
---
We Also Recommend